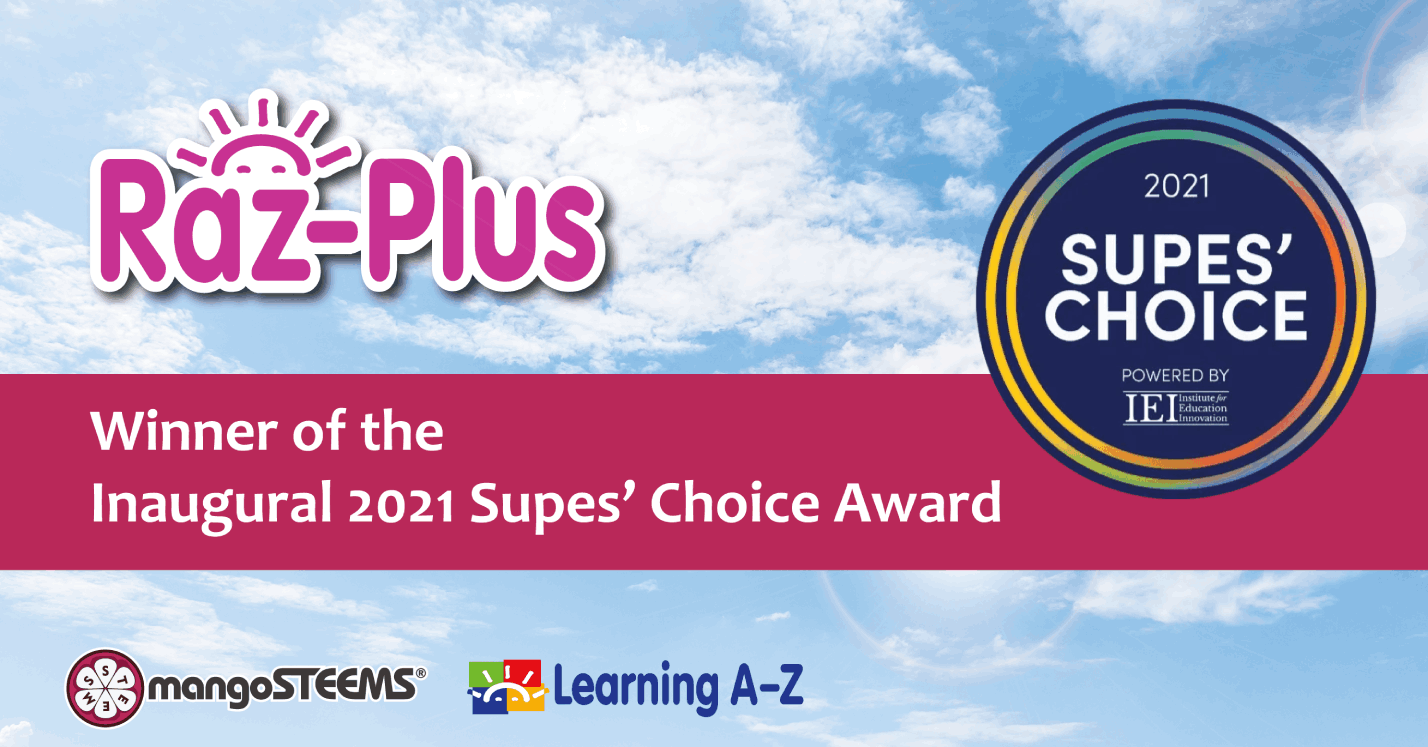 Raz-Plus from Learning A-Z was named winner of the inaugural 2021 Supes' Choice Awards in the Equity and Anti-Racism Champion category by the Institute for Education Innovation (IEI), an organization that serves as the bridge between district leaders and organizations to support the greatest challenges in K-12 education.
Raz-Plus was selected by a panel of esteemed superintendent judges from across the nation and was assessed based on Learning A-Z's commitment to student outcomes, innovation and ingenuity, client support, interactivity and engagement. The Supes' Choice Awards are the only industry awards judged exclusively by school district superintendents.
This fall, Raz-Plus launched the Meaningful Conversations solution, which aims to help educators foster conversations about social and racial justice issues through comprehensive resources, as well as create a comprehensive social-emotional learning solution that teachers could confidently use to help students:
Grow in self-awareness, social awareness, and empathy by celebrating one another's differences and similarities

Construct self-confidence through visibility, by seeing themselves and each other equally valued in the world

Develop inclusive, respectful dialogue skills with classroom discussions facilitated by teachers, guided by easy-to-use resources in multiple formats

Safely and appropriately discuss and digest difficult yet age-appropriate topics
Meaningful Conversations provides culturally responsive content and comprehensive support for facilitating difficult yet critical classroom conversations on 10 important topic areas (focused on subjects like family, friends, bullying, national disasters, learning differences, and racism). Meaningful Conversations is aligned to speaking and listening CCSS ELA Standards, themes from the National Council for the Social Studies (NCSS), and the CASEL Social and Emotional Learning Competencies and Growth Mindset.
Refer from: "Learning A-Z Named Winner of the Inaugural 2021 Supes' Choice Award for Equity and Anti-Racism Champion"
Raz-Plus is a blended learning platform that delivers standards-aligned reading resources and personalized reading practice for students, in order to build students' comprehension skills and enhance their English ability. Raz-Plus also provides online, data-driven reports that show individual and class-wide activity and performance.